Geological service provider makes local headlines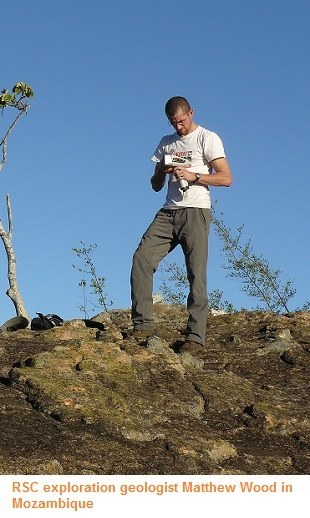 RSC Director Rene Sterk was interviewed recently by Simon Hartley from the Otago Daily Times, one of New Zealand's top industry writers. See below for the full story.
Dunedin-based company RSC Mining and Mineral Exploration Ltd is making plans for its fifth birthday next year. Business reporter Simon Hartley talks to company founder and principal consultant geologist Rene Sterk on the multimillion-dollar business which began life flying under the radar in Asia, Africa and Mongolia.
Contracted project management of mineral exploration is only slowly gaining traction in New Zealand, but after cutting its teeth on myriad Asian projects Dunedin-based RSC Mining and Mineral Exploration Ltd is making inroads into opportunities in Australia.
After four and a-half years of operation, in addition to a core group of up to 30 technical staff, RSC has 250, mainly geologists, on call for work.
Its headquarters are in Dunedin and it recently opened a four-person office in West Perth, an unassuming commercial hub, but otherwise the office power base of Western Australia's juggernaut resource sector.
"We're about getting boots on the ground for exploration and having support and logistics systems up and running," Mr Sterk said.
Often, the geology of a prospect had been worked up to some degree, but RSC aimed to "fill gaps" for clients such as logistics, further geology, surveying, drilling programmes or marketing, he said.
Contracts can range from having a consultant spending two days reviewing historical resource data, placing a team of geologists on site for several months to run a drilling programme, through to having a senior geologist working full-time for the past two years in Oman.
Netherlands-born Mr Sterk (34) graduated from VU University Amsterdam in 2002, with a master's degree in structural geology and tectonics.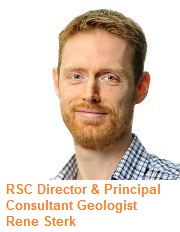 Working briefly from Wellington as a geologist from late 2004, he was seconded to Australia for 18 months, looking at gold, tin, tungsten and molybdenum targets for a junior explorer, before choosing a position from several offers in Adelaide, leading to a senior geologist position by late 2007.
However, that was at a time when zinc crashed in value.
His next stint was in Africa for 18 months, where Mr Sterk founded RSC.
He found African work practices to be "very labour-intensive" and subsequently came up with new and more effective technical models, including one six-week contract to consider how to assist a struggling gold producer prepare for an asset sale, eventually a profitable sale.
"We had to look hard at the support and logistics systems more closely," Mr Sterk said.
He said longer-term contracts often meant significant involvement with a company's management, and suggesting system changes did not "always go down well with everyone".
"Certainly, there were people not liking a [then] 31-year-old telling them how to manage their mine," he said.
Even though "company politics" were sometimes unavoidable, politics could distract from the work and RSC's main aim was "to simply add the very best technical value" to the client's programmes, he said.
Now a married man, Mr Sterk's next stop was to set up shop in a Dunedin basement before he got a "break" in the form of Singaporean company LionGold (now main-board listed), which on the exchange has a market capitalisation of about $S869.6 million ($NZ917 million) and trades about $S1.08 ($NZ1.10) per share.
LionGold had several gold prospects, with Mr Sterk sending geologists to targets in Indonesia, the Philippines (12 staff), a gold-drilling programme in Mali, West Africa, an alluvial gold target in Mongolia (eight staff), and modelling work for gold exploration in Zimbabwe.
"LionGold gave us the lift to go to the next level," Mr Sterk said, saying the company had accounted for about 65% of its work at one time.
LionGold's annual report said for the full-year 2012 the group achieved revenue of $S98 million mainly from its office equipment manufacturing business in China, but booked a net loss of $S31.4 million, from impairments and write-offs of environmental services businesses and expenses from exploration and acquisition of gold-mining tenements in Mali and Ghana.
RSC next hired a conference booth at a Queenstown resource conference two years ago, when geologists were in short supply, with Canadian-headquartered gold giant Barrick Gold later approaching the company.
RSC has now established some gold-drilling exploration programmes in Western Australia for Barrick, while on the east coast, RSC had been working with Australian Kingsgate Consolidated at three locations, in New South Wales and Queensland, which has included some exploration drilling. The projects collectively employ up to 16 staff.
In Mongolia, near the Russian Mongolian border, a five-person RSC team has been assisting in producing alluvial gold, while looking for the hard-rock gold source in neighbouring exploration tenements, and keeps a presence in the area.
Work recently in New Zealand has been for separate gold targets on the South Island's West Coast, for Auzex Resources Ltd and Toronto-listed Kent Exploration.
"The focus is on adding technical value to projects.
Geologists are sent out with their own hardware, software and insurance to hit the ground running," Mr Sterk said.
The West Coast prospects, near Reefton, included helicopter supported diamond drilling programmes undertaken by a team of five RSC staff overseeing all site logistics.
Mr Sterk is adamant RSC not be seen as a recruitment vehicle, but to operate as a geological contracting consultant. It's up to 30 staff include geologists, project managers, data management and technical personnel and administrative.
"If we were to become known as a company for recruitment, then we would lose our niche in the market," he said.
He said the logistics of having the correctly experienced geologists available, when the permit holding company wanted them, did at times pose difficulties, but he personally knew the strengths, weaknesses and experience of most of the 250 staff on call with RSC.
At present, most of RSC's work is targeting gold prospects, but with some coal and iron ore work in progress.
About 85% of business is bound up in exploration management or geological contracting, while the 15% balance is consulting work, such as reviewing project data.
The exploration management includes target identification, data compilation and review, planning and budgets, drilling programmes and overall project management.
Mr Sterk is surprised project exploration management in New Zealand is not as well-established as in Australia, but networking is beginning to break down those barriers, as is attending conferences in the Asia-Pacific region.
"It would be great to see more collaboration between the companies working in New Zealand," Mr Sterk said.
RSC is at present quoting for more work on eight new projects.
These include iron ore interests in Pilbara in northwest Western Australia, a project review in Malaysia, gold exploration in Ghana and five projects in Zimbabwe.
Leave a Comment
Your feedback is valuable for us. Your email will not be published.