ROLLING-STOCK MAKER UNVEILS POWERFUL UNDERWATER MOBILE DEVICE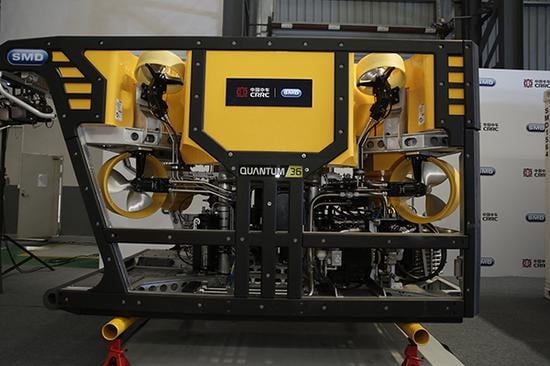 Source: http://www.ecns.cn/news/cns-wire/2018-07-18/detail-ifywhfmh2712117.shtml
(ECNS) – China's rolling-stock manufacturer CRRC announced a milestone in the development of deep-sea equipment as it unveiled the country's most powerful remotely operated vehicle (ROV) in Shanghai on Tuesday.
The heavy work-class ROV, produced by SMD Shanghai, a subsidiary of Zhuzhou CRRC Times Electric Co., Ltd., is the first range of equipment for deep-sea missions produced since Zhuzhou CRRC Times Electric acquired SMD in 2015.
The submersible boasts a 250hp propulsion capability, the most powerful in the world, and can dive to a depth of 3,000 meters and lift four tons.
There are generally two types of remotely operated vehicles—survey or inspection ROVs are used for scientific research, seabed exploration, and sampling, while the more powerful work-class ROVs are used for marine salvage and underwater construction operations, according to Zhuzhou CRRC Times Electric.
While work-class ROVs are usually less than 150hp, CRRC has set a record with this new powerful underwater mobile device. The device is also able to carry out real-time monitoring of underwater operations with a range of one to three meters depending on visibility. 
Chen Jian, deputy general manager of Zhuzhou CRRC Times Electric, said the ROV will be mass-produced in the future and further developed to make it smaller, unmanned and intelligent. 
SMD Shanghai's main products include ROVs, subsea trenching machines, underwater mining equipment, land-based robots, and renewable resource equipment. Its work-class ROVs are grouped into light, medium and heavy categories, and rank among the top three in the world market.
Leave a Comment
Your feedback is valuable for us. Your email will not be published.