GOVT SET TO MINE MINERAL RESOURCES OFF OKINAWA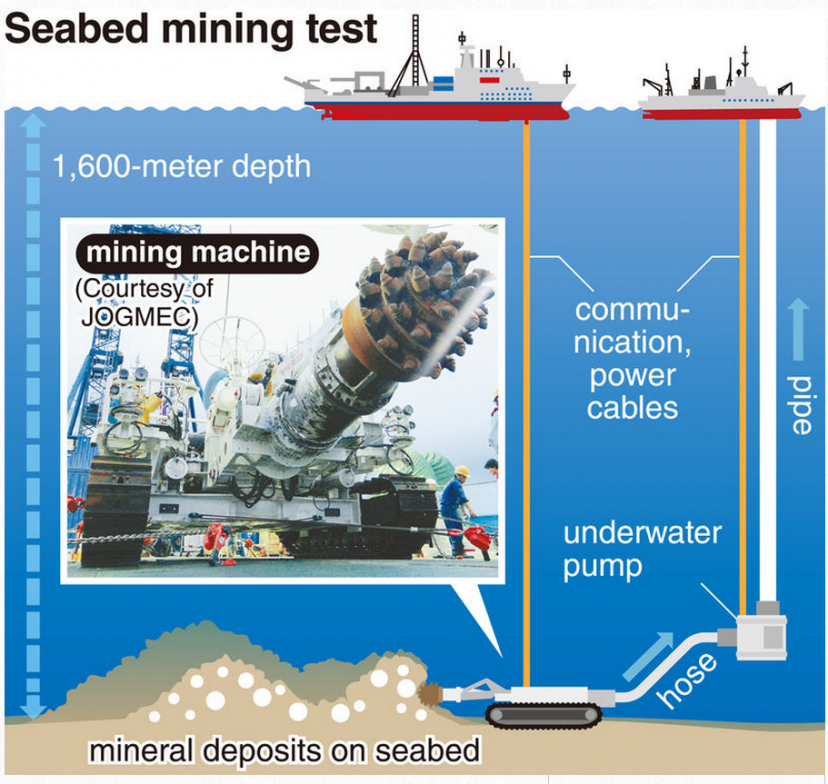 Source: http://the-japan-news.com/news/article/0002250422
The Yomiuri ShimbunThe Natural Resources and Energy Agency intends to conduct deep-sea test mining of minerals found on the seabed off Okinawa Island, in fiscal 2017.
The government aims to mine as much as 1,000 tons of zinc, silver and other mineral resources at a depth of about 1,600 meters in the sea off the island.
It is a world first to conduct such large-scale mining of minerals that lie under the seabed, according to the agency.
A large number of mineral deposits have lately been found one after another in waters near Japan.
Currently, the Hishikari gold mine in Kagoshima Prefecture is the only domestic commercial mine in the country, the agency said.
Japan is 100 percent dependent on imports for minerals such as iron, copper and zinc, which are indispensable for the production of cars and home electrical appliances.
The test mining is expected to be the first step to realizing commercial exploitation in the future, observers said, which would end Japan's reputation as a country with limited natural resources.
The agency plans to conduct the test mining on deposits found at the so-called Izena sea hole at about 100 kilometers northwest of Okinawa Island. It plans to use two mining machines developed by the Japan Oil, Gas and Metals National Corporation, the agency said.
The agency plans to conduct the test mining by the end of fiscal 2017, using a special-purpose pump — which is expected to be developed in fiscal 2016 — to pull up unearthed minerals to a mother ship on the surface.
It plans to mine about 100 tons of minerals every day for two to four weeks. The costs are expected to come to around ¥15 billion to ¥20 billion, according to the agency.
Meanwhile, a Canadian company has launched the development of a machine to mine seabed minerals at a depth of more than 1,000 meters in the sea.
A successful operational test of a Japanese-made mining machine at the Izena hole in the summer of 2012 confirmed the existence of about 3.4 million tons of mineral deposits including zinc, silver and gold.
Mineral deposits also have been found in the coastal seas of Kumejima island in Okinawa Prefecture and Hachijojima island in Tokyo.
The agency also plans to conduct a detailed survey of such mineral deposits.
The government plans to conduct a full-scale project to conduct an integrated operation from exploitation to refinement in cooperation with private companies in the 2020s.
Leave a Comment
Your feedback is valuable for us. Your email will not be published.