CANADA BANS DEEP-SEA MINING, OIL AND GAS DRILLING IN MARINE PROTECTED AREAS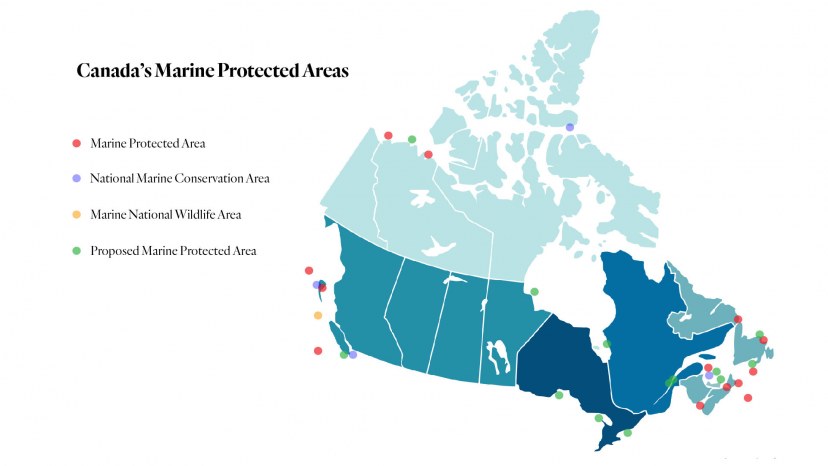 Source: https://thenarwhal.ca/canada-bans-deep-sea-mining-oil-and-gas-drilling-in-marine-protected-areas/
After two years of advocacy and 70,000 letters sent, conservation organizations across Canada are celebrating the federal government's decision to prohibit all oil and gas activities in marine protected areas.
"The public played a really big role in this change," said Stephanie Hewson, staff lawyer at West Coast Environmental Law, in an interview with The Narwhal.
Marine protected areas — known as MPAs — are effectively national parks of the oceans, establishing strict guidelines about what kind of activities can occur in the ecologically sensitive regions. In 2010, Canada signed onto the Aichi Convention to protect biodiversity and the world's ecosystems, committing to protect 10 per cent of coastal and marine areasby 2020.
The new rules will apply to all marine protected areas in Canada, including marine conservation and marine national wildlife areas, but the greatest effect will be felt in Marine Protected Areas managed under the Department of Fisheries and Oceans — most especially in the Laurentian Channel.
Proposed regulations published in June 2017 for the Laurentian Channel MPA — located between Nova Scotia and Newfoundland — allowed for extensive oil and gas exploration and production.
An access to information request filed by The Narwhal revealed that a close relationshipbetween the oil industry and federal Department of Fisheries and Oceans may have contributed to that proposal.
But on Tuesday, Minister of Fisheries and Oceans Jonathan Wilkinson announced that four industrial activities — oil and gas, mining, waste dumping and bottom trawling — would be banned in all new marine protected areas, starting with the Laurentian Channel.
This fulfilled recommendations made by a national advisory panel that filed its final reportin September 2018.
"I'm just greatly relieved that this trial balloon came down with a crash and the oil industry saw that they had pushed too far — and we're actually going to have real marine protected areas," Gretchen Fitzgerald, director of the Atlantic Canada chapter of the Sierra Club Canada Foundation, told The Narwhal.
"That's wonderful news."
The Canadian Association of Petroleum Producers (CAPP) declined comment for this article.
Series of offshore near-misses raised alarm
The federal Liberals pledged in their last election platform to increase the amount of Canada's oceans that are protected to 10 per cent in 2020, up from a mere 1.3 per cent in 2015.
Thursday's announcement increases the amount of existing protection to 8.2 per cent.
Prior to the federal announcement, it was unclear what protection even meant.
The proposed permitting of activities such as seismic testing for oil and gas, which can have devastating impacts on nearby marine species that rely on sound to communicate, was viewed by many conservationists and wildlife experts as a serious compromise to the government's vision for ocean protections.
Concerns only increased since 2017 with repeated offshore incidents. A BP Canada drilling unit off the coast of Nova Scotia spilled 136,000 litres of drilling mud in June 2018. Only five months later, an estimated 250,000 litres of oil spilled into the ocean from a Husky drilling platform, making it the largest spill in Newfoundland and Labrador's history.
Those followed arguably the most dangerous recent near-miss, in 2016 when a heavy pipe from a Shell Canada rig landed within 12 metres of an exploration well — which could have caused a blowout if contacted.
"It's sheer madness in our opinion that they're drilling off our shores where they are," Marilyn Keddy of the Campaign to Protect Offshore Nova Scotia, said.
"But particularly in marine protected areas? My goodness."
Existing oil and gas licences won't be cancelled
While the new regulations will prohibit industrial activities in new marine protected areas, including the Laurentian Channel, they won't result in the immediate cancellation of oil and gas discovery licences in two protected areas where they have already been granted: the Tarium Niryutait MPA in the Mackenzie River Delta and Gully MPA near Nova Scotia.
There is currently no active exploration efforts in the regions, and Wilkinson said the licences will be reviewed again in the future.
The new regulations also don't prohibit industrial activities in the more common "marine refuge," which will be evaluated on a case-by-case basis via the impact assessment process. However, marine refuges that do allow such activities won't be counted towards the 10 per cent commitment.
Nevertheless, representatives of environmental organizations view Thursday's announcement as a strong and necessary first step.
"There's a lot of research that's very well documented that having this type of strongly protected area is essential for restoring ocean health," Hewson said.
"Sometimes it's talked about as an insurance policy for the oceans. Oceans are fluid and there aren't real boundaries besides though drawn on the map but it's still really important to have those types of protections established in concrete areas."
Advocates call for stricter rules on offshore activities
Environmental advocates remain concerned about other aspects of ocean protection.
Fitzgerald of Sierra Club Canada said that recent Senate committee hearings concerning the new environmental impact assessment legislation (Bill C-69) demonstrates that it is "very clear that the offshore boards and oil-friendly people in provincial governments are trying to get deregulation in the rest of the ocean."
An ongoing call for bids near Sable Island, a national park reserve, adds to her fears that the oil industry still holds disproportionate power in the region.
Members of the fishing industry have repeatedly expressed concerns about the potential impacts of a Deepwater Horizon-like oil spill on their livelihoods.
"We will always have to be vigilante," Fitzgerald said.
Similarly, Keddy of the Campaign to Protect Offshore Nova Scotia said that her organization is actively calling for a full independent inquiry into offshore oil and gas development.
"Our feeling is that decisions have been made by the industry based on their so-called science and we think that there has to be a be a much, much fuller investigation of this," she said.
"And communities have to have a say. We're not letting up until they stop."
Leave a Comment
Your feedback is valuable for us. Your email will not be published.