DE BEERS' $157M VESSEL TO EXPLORE DIAMONDS OFF NAMIBIA'S COAST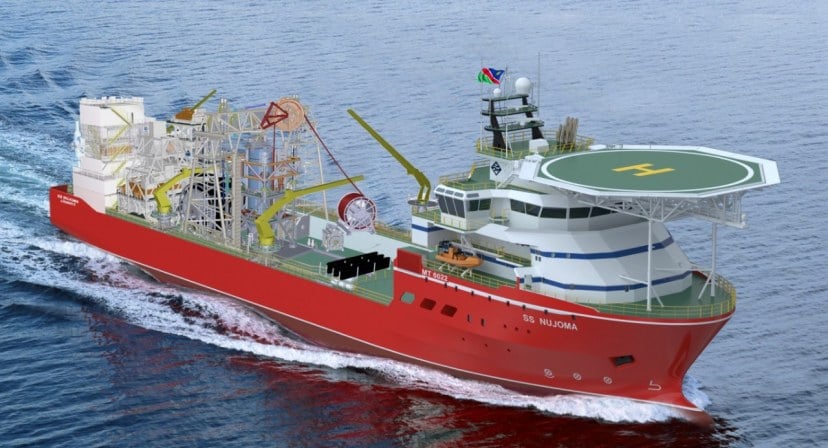 Source: http://www.mining-technology.com/news/newsde-beers-launches-exploration-vessel-to-unravel-diamonds-off-namibias-coast-5846050
South African-based De Beers Group's $157m mv SS Nujoma vessel is set to start exploring for diamond deposits in offshore Namibian waters following its official inauguration.
With the 12,000t, diesel-electric powered Debmarine Namibia will be able to explore the deposits and secure diamond supply in the country. The vessel is equally owned by the Government of the Republic of Namibia and De Beers Group.
The Government of the Republic of Namibia Mines and Energy Minister Obeth Kandjoze said: "Today marks an important milestone for offshore diamond mining in Namibia.
"The mv SS Nujoma represents the largest ever capital investment in underwater diamond mining and will ensure a long-term, sustainable future for offshore diamond mining in Namibia, as well as creating important new jobs for Namibians."
Measuring 113m in length, the vessel can carry a crew of 80 and is equipped with a helicopter deck suitable for Sikorsky S61s.
It was constructed in Ulsteinvik, Norway, and is fitted with a subsea sampling system, designed by De Beers Group.
"In order for the sector to thrive, it requires strong and supportive legislative and fiscal regimes."
De Beers Group CEO Bruce Cleaver said: "The mv SS Nujoma will allow even more of Namibia's high-quality offshore diamonds to be discovered and mined, ensuring a strong future for Namibia's diamond industry, as well as the global diamond market."
The vessel inauguration comes after five months of successful sea trials.
The mv SS Nujoma vessel is claimed to incorporate technologies that allow it to sample faster, take larger samples and collect more information per sample than any other diamond sampling vessel.
Mining of Namibia's diamonds is expected to take place at around 120m to 140m below sea level.
Leave a Comment
Your feedback is valuable for us. Your email will not be published.