CASH-STRAPPED NAUTILUS TO LAY-OFF WORKERS, CANCEL CONTRACTS FOR DELAYED SOLWARA 1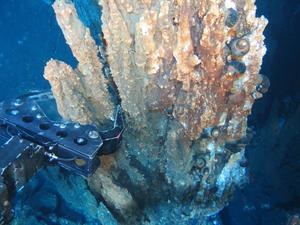 Source: http://www.miningweekly.com/article/cash-strapped-nautilus-to-lay-off-workers-cancel-contracts-for-delayed-project-2016-08-16
VANCOUVER (miningweekly.com) – Despite having $51.3-million in its coffers as at the end of June, marine mining pioneer Nautilus Minerals on Monday announced that it would implement several measures aimed at preserving the company's capital position while it sought to secure further project financing.
The TSX-listed company advised that following a review of all aspects of its business, it was reducing the workforce, terminating contracts for the construction of any seafloor production equipment that was in the early stages of development and that it would not enter into any new construction contracts until it could source additional funding.
The company had previously planned for the construction and development of the entire seafloor production system for initial deployment and testing operations at the Solwara 1 project, offshore Papua New Guinea (PNG), to be completed by first quarter of 2018, based on the company's project timetable and subject to securing additional project funding.
However, Nautilus had thus far been unsuccessful to secure the required money, resulting in an indefinite delay of production.
Nautilus advised that the company and its operating subsidiaries was exploring alternatives for securing immediate bridge financing to facilitate the time required to secure the "significant additional project funding" that is needed and/or to explore alternative transactions aimed at maximising shareholder value. There could be no assurances that the company would be able to obtain the necessary bridge financing on acceptable terms or at all, it advised.
The total capital cost for the system to deliver dewatered ore on board barges to the Port of Rabaul, including a 17.5% contingency, was estimated at $383-million. The operating cost, excluding contingency, was estimated at $237 000/d, or about $64/t of mined ore, transported to the port based on a production rate of 1.35-million tons a year. With a 10% contingency, these operating costs totalled $261 000/d or about $70/t.
Nautilus had formed a joint venture (JV) company with PNG's nominee, Eda Kopa (Solwara), in December 2014 to mine high-grade polymetallic seafloor massive sulphide deposits. Nautilus held an 85% shareholding and Eda Kopa 15%.
The JV had taken delivery of the three main seafloor production tools (SPTs) from British manufacturer Soil Machine Dynamics' (SMD's) facility, in Newcastle upon Tyne. They had been moved to Oman, where they were scheduled to undergo extensive wet testing at the Port of Duqm.
Nautilus planned to use the SPTs to cut and extract high-grade copper and gold from the seafloor at the Solwara 1 project site in the Bismarck Sea.
The proposed project had been met with fierce opposition from environmentalists arguing that the impact of deep sea mining on the various levels of marine ecosystems were not fully understood.
Leave a Comment
Your feedback is valuable for us. Your email will not be published.